If you want to increase your retirement income, obtain a higher return on your money or save on taxes, there is an option for giving that helps you achieve these goals.
Vanderbilt University Medical Center has a program that pays you annual income at a 5 percent rate. When you make this type of gift, the Medical Center invests the money in a diversified stock and bond portfolio. Then, you immediately begin to receive quarterly payments for life. Later, the gift will be used for a purpose that is important to you.
Donors and charities have benefited from this gift plan for about 50 years. It's a smart, time-tested and IRS-approved way to give!
How does it work?
If you are considering a gift of $100,000 or more, you can receive annual income paid to you for life. We will set up this type of gift for you, and you can support a purpose at the Medical Center that is important in your life while receiving income.
The Medical Center uses a trust to hold and administer your gift and invests your money in a diversified portfolio of stocks and bonds. You are not charged any commissions or fees and will earn at least 5 percent on the amount in your trust for each year you are living. Any leftover amount when the trust ends will support the program of your choice at Vanderbilt University Medical Center.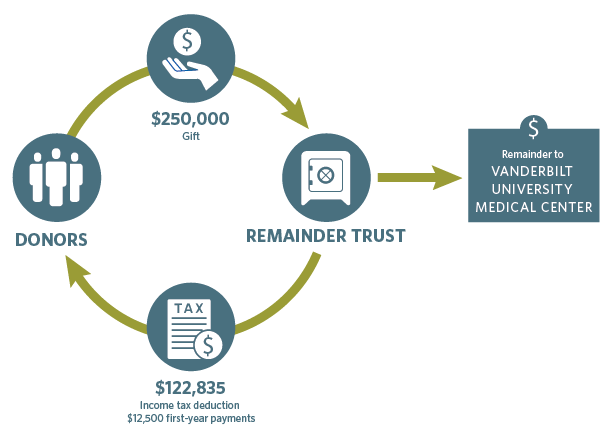 Example:
Steve, age 76,  and Linda, 74, want to see progress in the research efforts to fight cancer. They decided on a gift to Vanderbilt University Medical Center that pays them income. They make a cash donation of $250,000 and in exchange will receive 5 percent annual income for their lives, joint and survivor. They claim a charitable income tax deduction of $122,007.50. In the first year, they earn $12,500 on their $250,000 gift. The Medical Center keeps their account invested in a diversified mix of stocks and bonds. Steve and Linda's annual income after the first year is always 5 percent of the balance in their gift account. So, if the account value rises in later years, their annual income becomes higher as well.