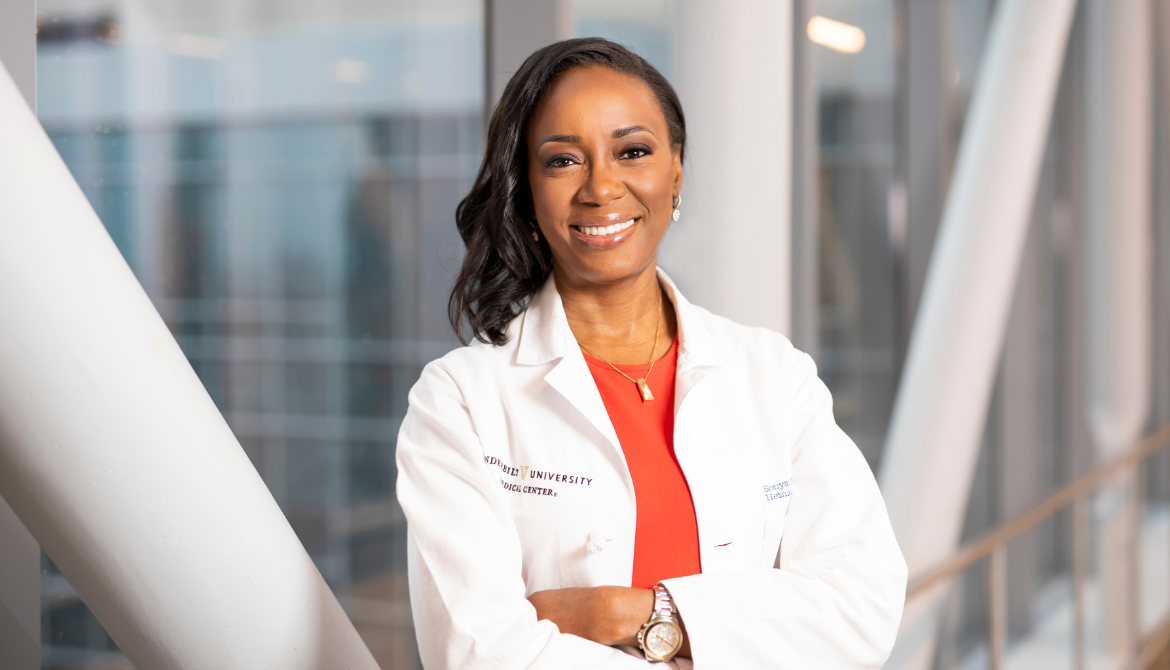 Vanderbilt Professor Working to Reverse Health Inequity within Minority Populations
At Vanderbilt Health, we pride ourselves on our worldclass clinicians, who not only deliver the very best care, but who work every day to advance and improve worldwide health care. Sonya Reid, MD, MPH, assistant professor of Medicine, embodies this mission through her research focusing on significant racial disparities within health care. Reid is a member of the Vanderbilt-Ingram Cancer Center Breast Cancer Research Program and sees patients at Vanderbilt Health One Hundred Oaks. Her research focuses primarily on health disparities in breast cancer, young-onset breast cancer and hereditary breast cancer with a particular interest in genomic differences that may be contributing to racial survival gaps. She is a recipient of an NRG Oncology Underserved Minority Scholars Award. This award was established by NRG Oncology this year to address cancer equity by intensively training early-stage investigators about clinical trials through the National Cancer Institute Community Oncology Research Program (NCORP).
"I have always been intrigued and appalled by the significant racial disparities among patients with breast cancer," Reid said. "Black women are more likely to be diagnosed at a younger age with breast cancer. Black women also have more aggressive disease and a worse mortality." The reasons for the survival disparity are complex, and studies designed to improve cancer outcomes are hampered by low representation of Black patients in clinical trials. "We have to be intentional about improving the racial/ethnic diversity in clinical trials and training diverse clinical investigators to improve trust in minority communities," she said.
Reid, along with 51 other physicians, will be participating in the first cohort of the Bristol Myers Squibb Foundation Clinical Trial Diversity Career Development Program. The program aims to increase diversity enrollment in clinical trials and develop medicines that safely and effectively treat all populations. By 2027, the Clinical Trial Diversity Career Development Program aims to train 250 community-oriented clinical trialists. Reid also recently led a study on racial disparities in COVID-19 Outcomes Among Black and White Patients With Cancer. The results showed that Black patients with cancer and COVID-19 had a higher burden of COVID-19 complications and death. "We now have to prioritize addressing the root causes of health disparities in order to achieve equitable care for all patients," she said. With your support, the Vanderbilt Health community is working towards progress, elevating important work like Reid's and pushing for equitable access to health care for underserved populations.